Google has silently released the seventh version of its mobile operating system Android 7.0 Nougat ( Android N). There is no significant visual changes, it has the same Material Design with android 6.0 marshmallow, but with slight modifications.

Features Overview
True Multitasking in applications
Accuracy of Doze and optimizes system performance, depending on the usage.
Google has introduced the ability to update applications and systems in the background.
Background Updates
Google has introduced the ability to update applications and systems in the background silently. Now, applications updates and system files will be downloaded and installed in the background after a restart, there is no more annoying "Optimizing Applications" window that keeps users waiting for there device to boot up.
However, this feature is not available on every android phone, most especially the Nexus devices. The background update needs an extra storage section and most of the old devices, are not able to work with this feature, it is only available in the new devices.
Multi-tasking ( Split Screen)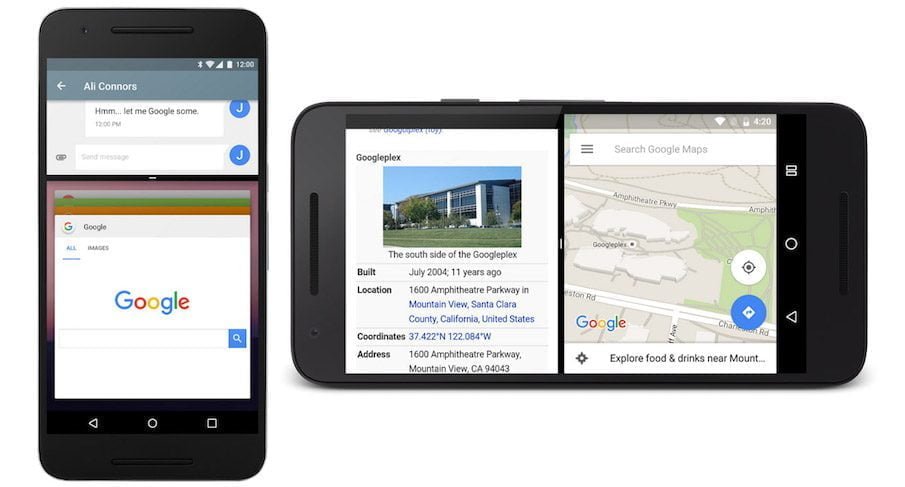 The implementation of multi windows bring about true multitasking like the ones we have always seen in Samsung galaxy devices. Although this feature is not new, it will give developers a chance and access to implement multi-window in their upcoming applications in all devices/phones with android 7.0.
You can now run two different apps simultaneously, you can easily activate this feature by holding the multitasking button and going into the settings.
Reveal Notification
Another notable changes can be seen in the appearance of new notifications. Multiple notification from the same apps are now combined into one, making the notifications panel less cluttered. This is unlike the previous android versions where notifications appears in multiple tiles, and occupy the entire width of the screen.
There is also an integration of a new API, which now allows developers to make interactive notifications. Now you can reply to messages in messenger without opening it.
Doze 2.0
Doze 2.0 is a more powerful and advanced power saving features which had been introduced in the android 6.0 by google. When your smartphone is not use for a long time, doze will puts it in standby mode, thus saving power.
The accuracy of Doze has increased , it now operating more accurately to determine the time when the smartphone is not in use optimizing system performance, depending on the usage scenario. Those who have already managed to try the release version of "nougat", confirmed that the lifetime of the device increases by 15-20% due to the new Doze 2.0 technology.
API Vulkan
Until now API Vulkan was only available to owners of Samsung Galaxy S7 and S7 Edge, however, with Nougat Vulkan API is now available for all Android-devices, users can now play games with improved graphics.
API Vulkan is design to improve graphics and gaming performance. This API allows developers to work directly with the graphics chip and offers access to more graphics effects like blur, improved fire effects and others.it will decrease the load on the graphics chip in the smartphone and increase productivity.
Other New Features
There is over 250 changes and improvements, some are listed below:
Over 1,500 New Emoji (72 new categories)
A more powerful Optimize RAM Usage and Multi-tasking
Improved facial recognition
Separate font size and configuration interface
Inbuilt antivirus and protection against harmful apps and spywares
Ability to resize images and grid applications.
How to install
Android N is now available to Nexus line devices. The updated list includes Nexus 6, 5X, 6P, 9, Nexus Player, and Google Pixel C tablet. OTA update is now available for nexus users of the above stated devices.
As for owners of other Brands and manufacturers like Samsung, Sony and others, they will only get Android 7.0 when the manufacturer makes the appropriate update. It may take up to six months, although the gap is getting smaller every year. Usually the Motorola, Sony and Samsung always update their flagship phones quickly. The first smartphone that will get Android 7.0 out of the box will be the flagship LG V20.
We are sorry that this post was not useful for you!
Let us improve this post!
Tell us how we can improve this post?