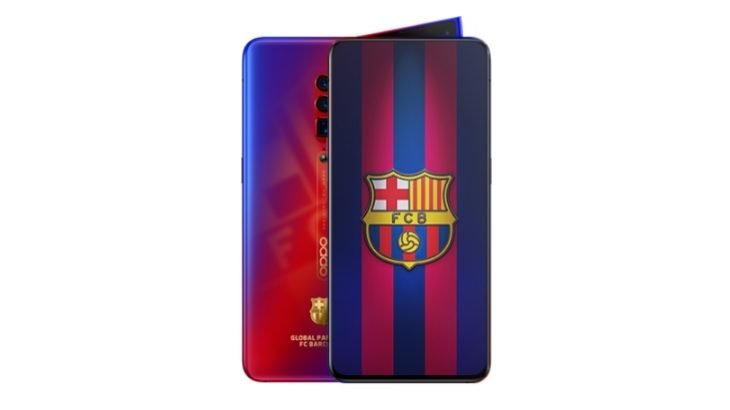 OPPO Mobile España (Spain) has announced the OPPO Reno FC Barcelona Edition (FC Barcelona Edition).

Also announced in China, this model is a high-end model equipped with a 6.6 inch 2340 x 1080 Super AMOLED, Qualcomm Snapdragon 855, 48MP + 8MP + 13MP triple cameras with 10x hybrid zoom support.
FC Barcelona Special Specification:
Unlike regular Reno 10x Zoom, this model is a special model that customizes everything except the main specifications to the FC Barcelona specification.
The body uses a gradation color that combines blue and garnet, which is also a team color, and it is a pattern that is coated with an emblem. In addition, a gold emblem and a logo "GLOBAL PARTNER OF FC BARCELONA" are specially prepared.
Reno FC Barcelona edition supports the same standard model as the 6.6 inch 2340 x 1080 Super AMOLED, Qualcomm Snapdragon 855, 4065 mAh battery, VOOC 3.0, 16 MP front camera with pivoting structure, 48 MP + 8 MP + supporting 10x hybrid zoom The 13MP triple camera etc. are carried. According to the official site, models with 8GB RAM / 256GB ROM will be released.
The model also features ColorOS 6 with FC Barcelona's customization. It allows access to customized themes, ringtones, exclusive content, etc. that are not provided by regular models.
In addition to this, the package is also a special specification, and the emblem is printed on the case and the box as well as the body color, and the customized version centered on the two colors is an item that can not be missed by the supporters.
The Reno FC Barcelona edition is scheduled to be announced on July 17 in China. As for prices and deployment models, we will add additional information as soon as we know.
This model is announced in China on 7/17, and 8GB / 256GB is set to 4799 yuan ($ 697).
We are sorry that this post was not useful for you!
Let us improve this post!
Tell us how we can improve this post?