Faking the location of an iPhone requires more effort than with Android devices because you can't simply install an app. Check out the easiest method for this below! Have you ever tried to fake the GPS location and then make a call to someone or access some geo-restricted websites and applications? While it might sound extremely difficult, the process is quite easy. All you will need is the right toolset. Once you have it, you won't worry much about getting the fake GPS location. The tool will mask the original location tag and bounce the signal from any random location on the earth. This can help you establish maximum privacy and security, especially when you don't want others to know the exact real-time location. In below article, we will explain how to fake location on iPhone using different tools, as it takes more effort for iPhone users to spoof location.
Check out more:
Dr.Fone System Repair Review: All you need to know about it!
Two Steps to Remotely Control PC from iPhone using AnyViewer remote access app
How to Transfer Data from iPhone to iPhone Easily with AOMEI MBackupper software
Part 1: What to consider while faking location on iPhone?
Before you start learning how to spoof location on iPhone, you need to know certain facts about the phone settings and other aspects. This will help you to avoid any mistakes or put the phone at stake in terms of hacking and privacy disturbance.
First, you must check whether you have given access location permission to any application you downloaded on the iPhone. If you have done so, remove the location permission first.
You also need to check if your mobile phone has an antivirus. To disable the GPS location and introduce a virtual one, the antivirus should be disabled.
Do not store confidential documents if you want to spoof the iPhone location. This will save you from tons of unnecessary hassles.
Also, the location finder should be disabled. This will instantly disconnect the phone from the real-time GPS and won't show your exact location anymore.
Part 2: Three Best Ways To Change iPhone Location
There is a plethora of ways to fake GPS locations on iPhones. But not all are efficient, reliable, and easy to master. So, we have prepared a comprehensive list of the three best ways to incorporate a virtual location on the iPhone.
Method 1: The Simplest Way to Spoof iPhone Location Using Dr.Fone Virtual Location
Since jailbreaking the iPhone can land you in serious trouble, including device instability, increased vulnerability, and unexpected crashes, it is better to use a reliable iOS location changer, like Dr.Fone Location Changer. Compatible with the latest iOS version 16 and Android 13, it sets a random geo location in just one click. Therefore, you will be able to go through the process properly.
Steps to change your location instantly
Download Dr.Fone and launch it on your Windows and Mac. Once the home page opens, click on Virtual Location from the menu options and connect the mobile to your computer. Once done, click on Get Started.
A map will open up on the new screen from where you can spot your current location. Sometimes, the current location might need to be displayed. For this, click the "center on" button from the sidebar, and it will automatically spot the exact location.
Now, click the first icon on the upper right corner of the screen to activate the Teleport Mode. A search bar will appear in the top left corner. Type in the place where you want to change the location of your iPhone. Now, click the go icon.
A small dialog box will open showing the coordinates of the place you entered in step 3 and the distance from your current location. The exact address will also be shown. Click on the Move Here button on the pop-up window. Then, your iPhone location will get changed.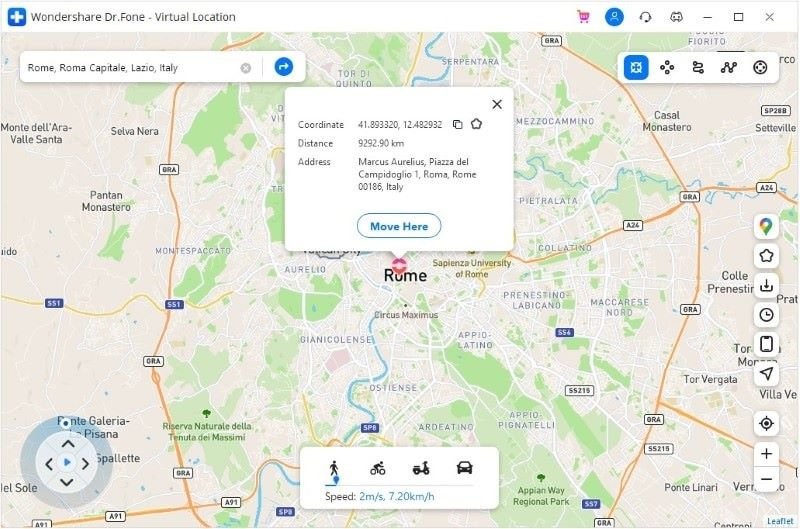 Features that make Dr.Fone Location Changer stand out
You can customize routes and make the software move around the location tag along that route circularly.
The software allows you to download the GPX files where you have saved the routes and work on them.
You can create a Favorite list for the locations and routes you might use too often later.
The software records all the locations visited in the past to help you re-select them in one click.
It also supports changing the real-time GPS location on five iPhones simultaneously.
You can even change the speed with which the location changes according to the impersonated activity, like running, cycling, and many more.
It also comes with a joystick to provide optimal control on changing the location along any pre-decided route.
Method 2: Using a VPN to Mask the Location
You can also use a VPN extension to mask your mobile's location and access the internet anywhere. Some VPNs are free; after downloading, add them as an extension. This will help you to change the current location on the iPhone device. This makes heavy use of virtual locations, which are VPN servers configured to appear as if they were in one country but are actually located in another. Most of the time, this is a problem for which this method can't be much efficient.
Method 3: Hardware settings
You can also change the location from the settings of your iPhone. This is the easiest way to set a virtual location but not the most efficient. Circumventing the rules of an app or business might end up getting you banned. So this method might be a drawback for you.
Conclusion
In this article, we have introduced you what to consider when changing the phone's location to a virtual one, along with three methods. The best and most flexible way will be to use Dr.Fone Virtual Location from Wondershare. It does not just teleport your location to another point according to your desire but also allows you to build a route for moving or bounding your location from one point to another.
We are sorry that this post was not useful for you!
Let us improve this post!
Tell us how we can improve this post?