Today I am going to show you different ways to remove a security feature known as privacy protection password on any android phone. The method and solutions listed and described in this post have been tested by me, you can keep trying them one after another until you find a method that will help you unlock your device. Apart from the Emergency contact solution and inserting the original SIM card, there is no other way currently available to bypass/remove the privacy protection password without connecting it to a computer.
Here are few methods to try before settling for the last option of calling up an engineer or rushing down to an expert to get it done for you. Simply follow the simple solutions below to bypass the password from the comfort of your home or office. You can easily remove the privacy password of your Tecno, infinix, itel, gionee, xiaomi, huawei, samsung devices by using handy software like SP Flash Tool, NCK tool, GSM Aladdin, Miracle Box, Volcano Box or the emergency contact solution method without computer.
What is Privacy Unlock Password?
Answer: It is an Inbuilt security anti-theft feature that came with most of the android phones running OS 4.3- 6.0 e,g Tecno, Infinix, Samsung, Huawei e.t.c. Once enabled it will prevent any unauthorized user from accessing your phone until the required setup password has been entered.
Why is my phone asking me to enter a privacy protection password?
Answer: This can happen if you or previous users have previously set up a mobile anti-theft password on your android using a Sim card. Some phones also comes with factory locked privacy protection, in either way you will still need to insert the anti-theft password and the phone will be unlocked.
Other Reasons Include:
You Forget Mobile Anti-Theft PIN.
You have wipe or reset your phone.
You have previously set up a mobile anti-theft password using a sim card.
Possible Solutions And Methods
Method 1: Try Using a Combination Of Default Passwords
If you can't remember setting up the mobile anti-theft feature, then chances are that your phone came with a factory locked privacy protection from the manufacturer. You can Try using the different default passwords like 0000 or 1234 or 000000 or 123456 when it asks for the privacy password. If this doesn't work for you then try Forgot Password and sign in with the Google account otherwise try a factory reset or Method 2 below.
Method 2: Insert the original sim card
You can easily turn off the anti-theft Services if you still have the original sim card that you used in setting it up. All you need to do is: Power off your phone and reinsert the original previous SIM card that you had for your phone.
Power on your phone.
Once your phone boots up, open the "Settings" app to get to your device's settings screen.
Locate and tap on "Security".
Look for "Mobile Anti-Theft" or "Anti-Theft Services" and either click the checkmark off or the switch from "On" to "Off". There might be slight varying differences on the set up of the screen depending on your device.
You can now insert a new SIM card on your phone without getting a privacy protection password lock.
If you do not have the original SIM Card for the phone, you will have to try method 3 or 4 below to see if you can bypass the privacy protection password.
Method 3: Flashing Phone Stock Firmware/Rom Using Sp Flash tools
Downloading and flashing exact stock Firmware for your phone can help you remove/fix the problem. You can do this by following the 8 simple steps below:
Check out: The Best Websites to Download Android Firmware and ROM (All phone Brands)
Select and use Correct Firmware, Wrong Firmware Can Brick The Phone !!!
Download the latest version of SP Flash tool from its official website HERE
Remove the battery from the phone and then slot it back before booting the Smartphone or device. If your phone has an inbuilt battery then you can simply switch off your device.
Open and launch the SP Flash Tool as an administrator in the system.
Click on the 'scatter-loading' option present towards the top-right below section.
5. A window will pop up and select the file with the name of the model of your phone to load scatter file for your device.
6. You'll see a list with boxes. The list includes tools like preloader, mbr, ebrt, uboot, recovery, cache, etc. Untick the box in front of the item that you don't want to flash. Once all the files you wish to flash are ticked, click on the 'Download' tab.
7. Connect your switched off phone to the PC/Laptop via USB cord. You'll see a progress bar running on the PC. Wait till you get a success message with (a green circle with ok).
8. Disconnect the phone.
Do a Factory Reset in recovery mode to prevent errors.
NOTE: If you wish to format your phone, select the Format Tool from the
options. In the Format Tool make sure that 'Auto Format Flash' and
'Format whole flash without Bootloader' are selected. Then connect your
switched off phone to Laptop/PC via USB cord and when you see the
success button, you can disconnect the phone.
For more information check out this post Here.
If IMEI gets corrupted, you can always enter original/repair IMEI by following instructions HERE
Method 4: Miracle Box Method
Requirement:
Download Miracle Box
DOWNLOAD
Download Miracle box drivers Here
* PC
* USB cord
* Manually Install Mediatek VCOM drivers
* A Tecno, infinix, gionee or any other MTK device with PPP ( Privacy Protection Password locked).
How To Use:
1. Extract the content of the Miracle Box to your desktop. Open the folder and run "Miracle_Loader_2.27A"
2. Wait till the Miracle Box program is launched
3. Click on the MTK tab
4. Click on the Unlock / Fix tab and Tick Clear Anti-theft.
5. Click the drop-down box and select your MT Chipset type viz: 8th Boot.
6. Click the Start Button
7. Connect the phone to the PC (must be switched off still with battery inside)
8. Press the power button once (this is to ensure that your device is detected immediately). DO NOT hold down the power button else the phone will boot up normally
9. Wait for the process to complete. It may take a few minutes, wait until you see the message 'Done'. (You need to wait a few minutes before the phone will boot normally)
10. Disconnect and power on the phone.
The MiracleBox method will work for you. If you can't get access to a computer to perform a software flash/reset of your device, you will have to find a local cell phone repair shop that can perform the software flash on your device.
Method 5: Emergency Contact Solution
This is very useful if you or the former phone user has forgotten the password. Actually, when setting up the privacy protection anti-theft security, There would be a setting to add a trusted administrator as an emergency contact phone number. Your emergency contact can easily get your protection number by sending a request to your phone. They will receive a text message to confirm they had been added but they would also get one anytime a new SIM card was inserted into the device. This user will also be able to send requests to the device which can allow you to get your protection number.
The registered mobile number you add as a trusted administrator(Emergency contact) in anti-theft
during the privacy protection password setup process should receive a text message that your phone has been stolen. You can reply to this message using certain hashtags to get responses back which can be very beneficial to you. By just replying to the message with # password# or #mima# (with hashtags )within few seconds you will receive a message containing your pin entered that pin and unlocked your phone.
There are three commands that you can send to your phone ( from your emergency contacts cell phones). One of the commands will send you back a new privacy protection password to unlock your phone. The command is # mima # (with hashtags). I sent that word from my husband' s phone and I received a message with a new code to unlock my cell phone. Once I did, I obviously changed the code and also you can turn the anti theft off so you don't have the problem anymore.
1. Emergency contacts are used to send remote control commands.
2. When SIM cards are changed, notifications will be sent to emergency contact via SMS
List of Remote control commands:
For the text message they are sending, have them(the Emergency contact) use either (#password#) or (#mima#) (without the bracket, just the number sign) to fetch the anti-theft PIN and be able to get past the privacy protection password screen.
1. Remote phone lock send message #suoding#
2. Remote data wipe Send message #xiaohui#
3. fetch back anti-theft PIN Send message #mima# or #password#
4. New Remote unlock command #unlock#
Method 6: Volcano Box Method
Volcano Box is an all in one tool that can help remove privacy protection password and anti theft lock on almost all Android phones. It supports many of the mobile brands available in the market, most especially devices that are powered by MTK and Spectrum chipset/processor. It also has support for Nokia, Xiaomi, Samsung, ZTE, Huawei and many other mobile phones.
Features:
Bypass Privacy protection password (PPP) on all supported devices including Chinese phones like: Tecno, Infinix, Gionee, Itel, Xiaomi and many more.
Whenever you are stuck at the "enter the pin code" stage while flashing your Chinese smartphone you may seek the help of volcano box. It tries different
Combinations and will come up with the correct code.
Forgot the maze code or login code? Volcano box can unblock it within a moment.
Change or repair IMEI of any device.
It is user-friendly and simple to use.
Compatible with all the latest Windows operating systems.
Requirement:
A USB Cable.
Window Pc with your device driver installed.
An android phone with PPP/FRP Lock.
How To remove privacy protection password using Volcano Box Software:
If you follow our step carefully then you can 100% solve your problem.
Download Volcano Box setup files from above in this post.
After the download is complete, extract it by using either 7zip or Winrar.
Now open the new extracted folder and double click on the .EXE file to start installation.
Wait till the installation complete and Power off your phone.
Then you need to follow these easy steps below:
Step: 1 Launch the volcano Box tool by double-clicking on the icon, and follow the instructions according to the image you see below: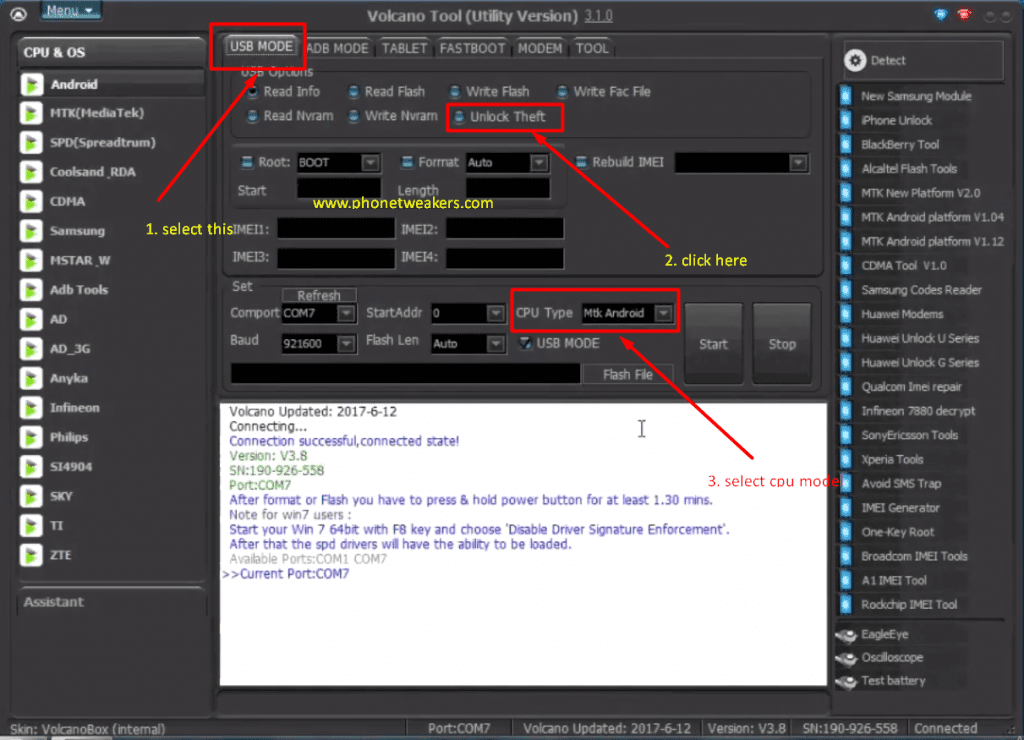 Volcano Box Privacy Unlock Remove Method
1. Click on "USB MODE" at the upper right corner
2. Under the "USB Options" select "Unlock Theft"
3. Then you will need to select "CPU Type" according to your phone model. Select Mtk Android for Mediatek Android devices and select Spd6820 for Spectrum processor Android devices.
Step 2: Click on start, you should see a message dialog like the image below click on "NO" to proceed.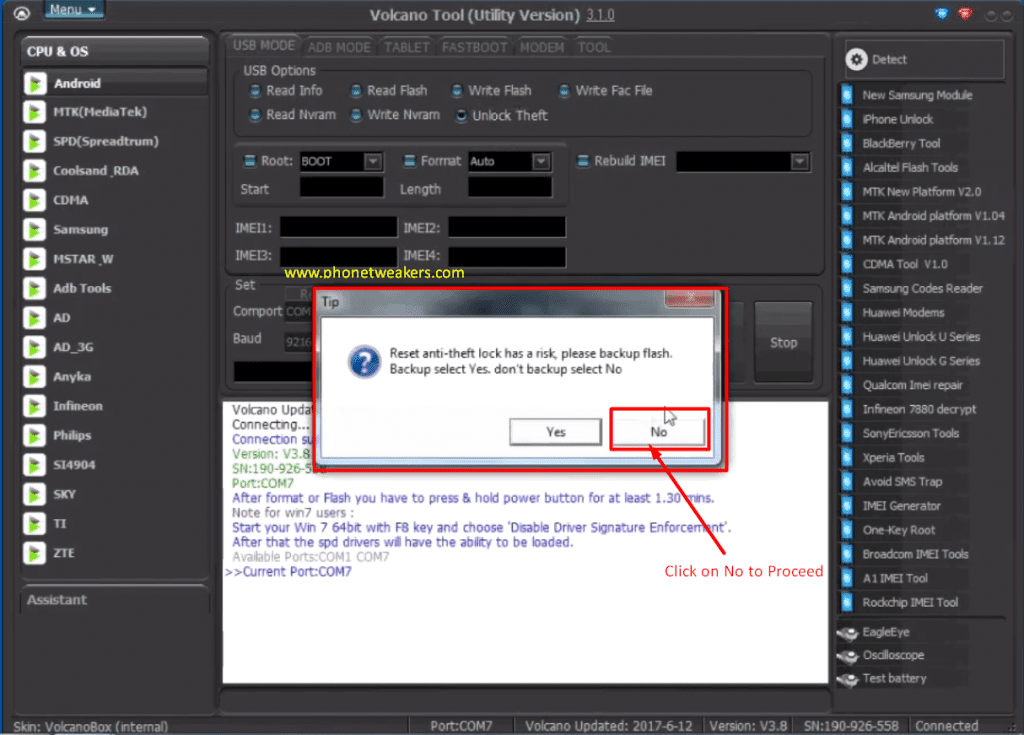 Volcano Box Privacy Unlock Remove Method
Step 3: Connect device, remove and reinsert battery, insert USB by holding volume + and volume – or power button only.
Step 4: Your device should connect and the whole process should take like a minute for you to see the Successfully reset anti-theft lock message in the Volcano tool.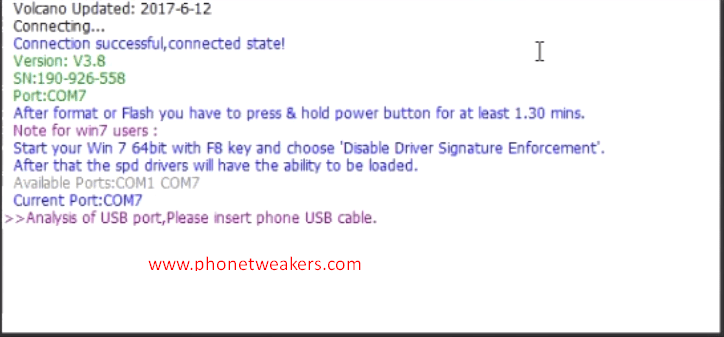 Volcano Box Privacy Unlock Remove Method
Step 5: Disconnect your USB and smartphone from the computer, remove and re-insert your battery and press the power button to switch on your phone.
Volcano Box Privacy Unlock Remove Method
All done! Enjoy your phone now without any Lock
Method 7: GSM Aladdin Method
GSM Aladdin is a software tool for Windows computers that support many Mediatek devices. By using this software tool you can ByPass FRP, Direct Clear Password, ByPass FRP Gmail account, Clear Private Code, Reset User Lock, Read pattern Code and Remove anti-theft password.
How To remove privacy protection password using Volcano Box Software:
Make sure your Device USB driver is already installed on your computer, you can download your correct phone driver by visiting your device manufacturer website or Google search.
Step 1: Download Gsm Aladdin Tool by clicking here
Step 2: Open the .zip file you just downloaded on your pc and extract it using either WinRAR or 7zip.
Step 3: You will see a .exe file, double click on it to install.
Step 4: Now open the GSM Aladdin key software you have just install on your computer and click Connect.
Step 5: Now you will have to select your device chipset in the device Menu Tab list since I am using an MTK device I have selected Meditek.
Gsm Aladdin Privacy Unlock Remove Method
Step 6: In the model Option, click on the drop-down menu and select Boot2(65XX-81xx), Leave the rest of the default options and click on "Services" just like the image below.
Gsm Aladdin Privacy Unlock Remove Method
Step 7: Under Services, Click "Clear Settings/Frp" and power off your phone. Click Start Button and insert USB cable from the computer in phone and wait for the operation.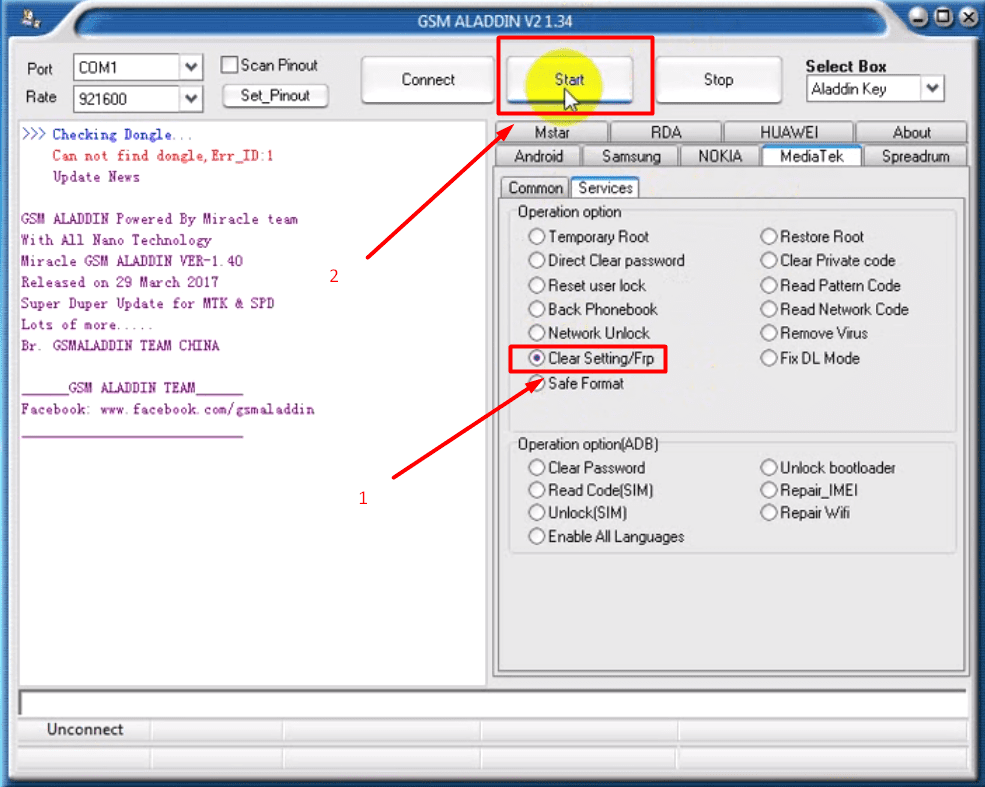 Gsm Aladdin Privacy Unlock Remove Method
All done! now you can start using your phone normally without Lock.
Method 8: NCK Box Method
NCK Box is a multifunctional phone servicing software tool that can be used to remove anti-theft/Privacy protection passwords on many popular Android phones.
Requirements:
Your phone battery must be at least 50%
Install Mediatek USB VCOM drivers
MTK All in on Download Agent (MTK_AllnOne_DA.bin)
PC
USB cord
How to remove / bypass please enter the Privacy Protection Password using NCK Box:
Step 1: Extract the NCK tool you have download to your computer, if your phone has a secure boot you will need a "download agent" for your phone, you can use the default download agent for all MTK devices that is included in the NCK tools DA_path.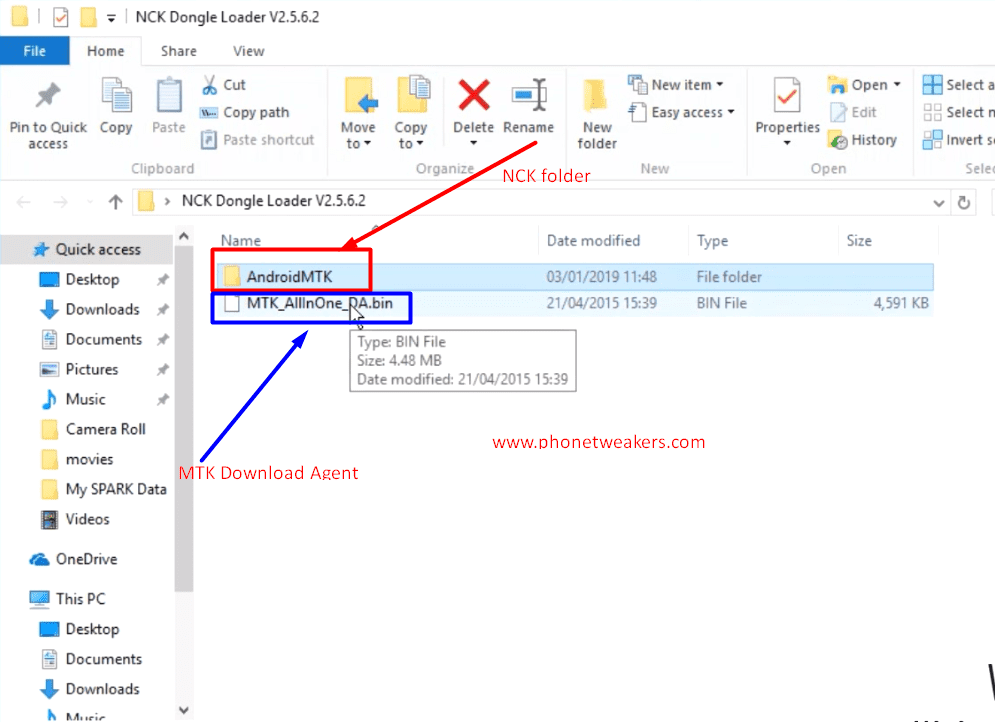 NCK Box Privacy Unlock bypass Method
Step 2: Double click on the Nck mtk dongle.exe application to open.
NCK Box Privacy Unlock bypass Method
Step 3: Under settings click on custom loader and select the MTK_AllnOne_DA.bin file.
NCK Box Privacy Unlock bypass Method
Step 4: Then you need to click on the "service Tab" according to the image below, Under Phone Setting leave first, drop down as "0-By CPU". Then click on the drop-down menu to select your phone chipset type. Click on "Reset Privacy".
NCK Box Privacy Unlock bypass Method
Step 5: You will see a "confirmation box" click on yes.
NCK Box Privacy Unlock bypass Method
Step 6: Switch off your phone, remove and re-insert your battery and connect your phone to the Computer by inserting your USB cable.
NCK Box Privacy Unlock bypass Method
Step 7: NCK will detect your phone and the flashing process will start.
NCK Box Privacy Unlock bypass Method
Method 9: How to remove privacy protection password using Hard Reset without PC
Power off your mobile phone.
Press Vol up and power key at the same time.
Release power key once you hear vibration and continue holding volume up key.
Scroll down to "Clear EMMC", press power key and wait for operation to complete.
Reboot your phone and see if you can go past the "privacy protection"
We are sorry that this post was not useful for you!
Let us improve this post!
Tell us how we can improve this post?