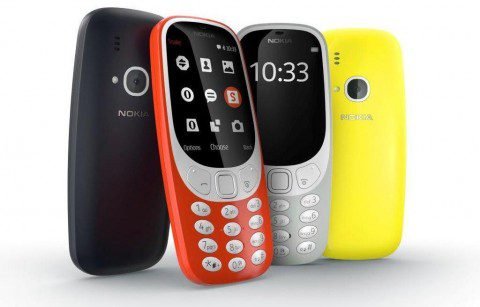 With the additions of new line of smartphones by Nokia from late last year, Nokia has showcased in the MWC 2017 the updated version of their best-selling phone of all time – Nokia 3310. According to latest information from reliable source, the latest version of the 3310 will get a classic design, with a resemblance to the old version of the phone which was released back in year 2000. The 2017 version will have a 2.4-inch QVGA color display, 2-megapixel camera and a microSD slot for memory expansion. It will comes in four different colors which are: dark blue, red, yellow and white colors.

Apart from the fact the 3310 is one of the most popular mobile phones, it also have one main advantage over most of the modern smartphones of today, which is the battery life. According to the manufacturer, on a single charge, you will get 22 hours of talk time or 25 days of standby time.
The phone will be powered by a Series 30+ Operating system and it will come preloaded with Opera Mini browser and the popular Nokia "Snake" game
This might really be a great breakthrough for Nokia, especially if the latest 3310 meet the famous Nokia quality standards. HMD the company behind Nokia innovations also also deserves great respect. We believe that the beautiful design and high quality will please Nokia fans around the world, well, Nokia 3310 is back, in general, It makes me smile with happiness! " – Said Brad Rodriguez, Acting President of Nokia Technologies
The Nokia 3310 Sales will start in the second quarter of this year, priced at €49.
We are sorry that this post was not useful for you!
Let us improve this post!
Tell us how we can improve this post?