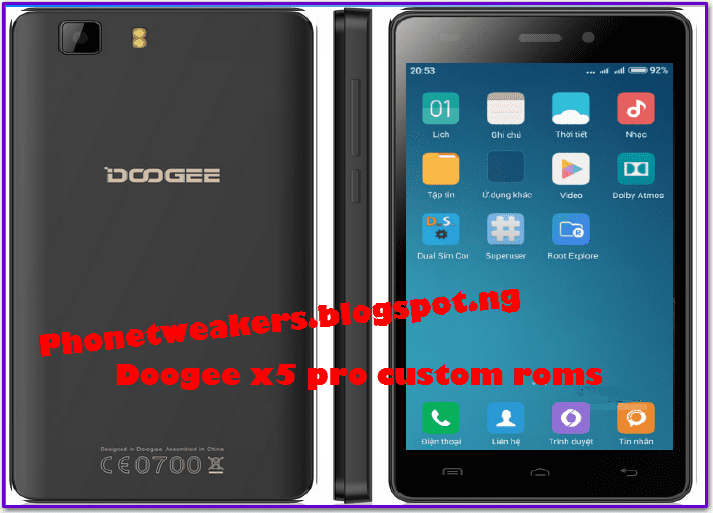 This is the collections of best stable custom and stock rom available for the Doogee X5 Pro . You just have to download and install them and choose best one to use as your daily driver on your android smartphone. Most of the download links are not in english language, you must use a browser with automatic translation i recommed google Chrome.
Note: You must have a Custom recovery Installed on your phone in other to Install a custom rom or a modified stock rom. Download and install a custom recovery HERE or HERE.
How To Flash A Custom Recovery On Doogee x5 Pro Using Sp-Flashtools
Open SP Flash Tools and click Scatter Loading, now select the scatter file of your device.
Make sure all boxes are NOT checked, if there's a check, remove it by clicking the check.
Now, click RECOVERY from the list. A new window will appear, find the recovery image that you want to flash or install and click Open.
Make sure the RECOVERY option is the ONLY one checked on the list and you can now see and choose the location of the recovery image that you are going to flash.
TURN OFF your android phone. When it is already off, click the Download button on the SP Flash Tool, then click Yes. After that, connect your switched-OFF phone to your computer using USB Cable.
The tool will detect your phone and flash the recovery, if your computer can't detect your phone, re-install your sp-flashtool Drivers. Wait until a prompt with green circle will appear, that means the flashing is done successfully.
You are ready to Install custom Roms.
Official Firmware For The DOOGEE X5 PRO ( USING SP FLASHTOOL)
Check out this Tutorial on how to install a Stock Firmware using Flashtool Here
Android 6.x Marshmallow Firmware:
Android 6.0 R16 • x32 / 3.18.19 / 23.11.2016 / SP Flash Tool
Download
Android 5.x Lolipop Firmware:
Android 5.1.1 R17 • x32 / 3.4.5 / 01/07/2016 / SP Flash Tool
Firmware DOOGEE-X5pro-Android5.1-R17-2016.07.01 for the Flash Tool
Download
Android 5.1.1 R14 • x32 / 3.4.5 / 01.11.2015 / SP Flash Tool
Download
Android 5.1.1 R07 • x32 / 3.4.5 / 20.10.2015 / SP Flash Tool
Download Link Not Available…..
========================================================================
Custom Roms For The DOOGEE X5 PRO ( USING TWRP RECOVERY/ SP Flash Tool)
Android 8.x Oreo Custom Rom by SnowCatPDA
Android 8.1 Oreo Beta • x32 / 3.18.79 / SP Flash Tool • from SnowCatPDA
Download Android 8.1 Oreo Beta1
Android 8.1 Oreo Alpha1
Link is down 🙁
Before installing, be sure to backup NVRAM and NVDATA. .
After the firmware, restore the backup and put the Gapps at will.


=========================================================================
Stable Android 7.x Nougat Custom Roms
XenonHD • TWRP • from sunk851
Bugs:
Microphone
Download
LineageOS 14.1 – 7.1.2 • x32 / 3.18.19 / TWRP • from SeriniTY + Support init.d
LineageOS 7.1. 2 ( x32 , 3.18.19+ )
About firmware and features:
Updated build
Android 7.1.2 version
Fast work
Stable
Route not embedded
GAPPS are not built-in
Cameras fixed
Bugs:
LiveDisplay does not work (disabled)
=========================================================================
Stable Android 6.x Marshmallow Custom Roms
MIUI 9 v7.8.28 (6.0, 3.18.19+, x64)
TWRP Download
MIUI ROM FILE
Fix lightweight mode
Fix engineering menu
CyanogenMod 13 • x32 / 3.18.19 / TWRP • by yarikk0504
Bugs:
Bluetooth does not transmit audio
Download
Last Modified: 2018-08-14