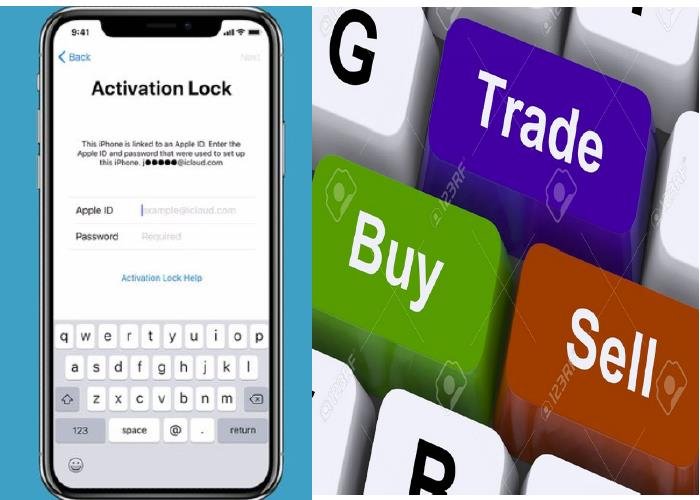 There are many websites and companies on the internet where you can buy or sell an iCloud locked devices. Buying and Selling of Second-hand iPhones means it is still linked to the previous owner's account. Without his Apple ID and Passcode, you will not be able to activate the iPhone.
In order to save you lots of time and money, I will suggest you sell online for the best price. You can also find a retailer near your location which can buys your iCloud locked phone.

What buyers should know:
Can i unlock an Apple device that is iCloud locked?
Once a device is setup with an iCloud account and with Find-my-Phone enabled, it's not possible to unlock the device at all, without entering the iCloud password, and disabling the feature. There are also some Legit unlock services and tools you can use, but they are very expensive. Check them out here.
No attempt of restoring or reinstalling a clean firmware can unlock your iPad, iWatch and iPhone.
You should also be careful about some iCloud unlocking scam websites. You'll lose your money if you try them out. You can check them out by clicking here.
Is it a good idea to buy iCloud locked iPhones?
Yes depending on your intentions and So far you know what you are doing as a buyer.
If the device is legit, ask the previous owner to unlock it.
If the device is stolen, return it to the legit owner.
If the device was bought without the knowledge that it was stolen, be more careful where you buy second hand devices.
Do not buy a stolen iphone or ipad in order for you to sell for profit, this is bad and can put you or the seller in trouble.
Here are the list of website you can legally sell, trade-in or buy your locked smartphones:
Recell Cellular:
Recell Cellular is the premier site on the internet to Buy, Sell, or Trade-In your cell phone.
By Buying and Selling the most popular phones on the market we can offer you an affordable option to upgrade your current phone. Our staff uses the most competitive pricing system available to offer you the most for your phone. Price can start from Upto $567 to $40 depending on your phone model and condition.
Follow these Simple Steps To Sell your Phone and Get Your Money:
Select your device in our Sell Now section by clicking here
Determine the condition of your phone by referring to Our Grading System. You will be able to select carrier, capacity, ESN status and locked status of your phone.
The system will generate an offer based on current market conditions. Once the offer is accepted we will mail you a shipping label and container for you to send your phone to us.
When your phone is received it is inspected.
If the phone meets the conditions that the offer was based upon we will issue your payment based on your selected method of payment.
U.S. cellular:
At U.S. cellular Trade-in offers and prices starts from $400. Have an old phone collecting dust? Get paid for your icloud locked devices. Find out how much it's worth to reduce your monthly bill or use it to apply towards a promotion for a new device.The U.S. Cellular Trade-In Program is a great way to put money back in your pocket while also sustainably disposing of your unused devices.
Your old device could be worth a lot more than you thought. 3 ways to start your trade-in Exclusively for currently active U.S. Cellular customers:
Select your device by clicking here to get started
After selecting click to proceed.
Select yes or no to determine the condition of your device.
Select No for Activation Lock been disabled? Enter IMEI and Mobile number.
Fill the captcha and click on accept and continue.
Verify and accept your details, your phone is now ready to be shipped. Return your device in the prepaid envelope you'll receive.
Note: You can visit your local U.S. Cellular store to receive the value from your device today. Bring your device and quote with you.
Ebay:
With ebay Even old, broken, and used phones are worth money. Find out how much. There are huge a amount of "iCloud Locked" iPhones that are listed and sold on eBay daily with the price of the iphone/ipad starting from $40. Ebay depend on individual sellers' honesty and on knowledgeable buyers to be careful about their purchases, most of them sell or buy because they are resellers, where people have traded their phones in prior to unlocking them in icloud.
Sellers list their iPhone on ebay, clearly stated it is icloud locked and unless someone knows a way to unlock it, it would only be useful for parts.
To buy on eBay, you can start by registering for an eBay account online. Then, locate or do a search for Apple locked/ iCloud locked devices you're interested in buying, and click on the "Buy it Now" or go through the bidding process.
Other website :
InstaCash
Gazelle
NextWorth (Accept trade-in offers)
Amazon (Accept trade-in offers)
Swappa (buy or sell fully functional phones)
mbtTOC2();
We are sorry that this post was not useful for you!
Let us improve this post!
Tell us how we can improve this post?