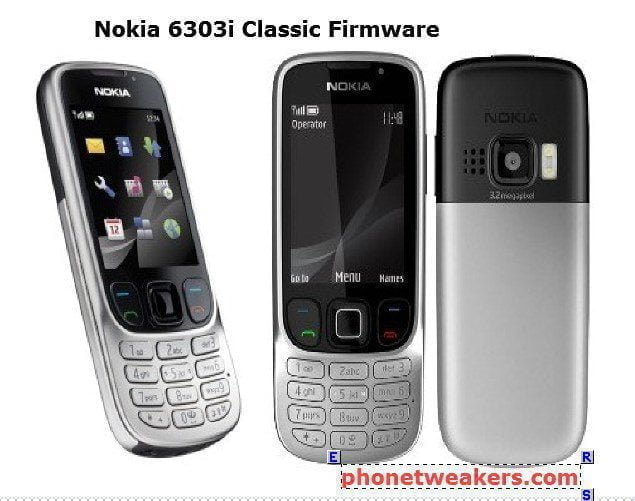 At the moment the latest firmware for the Nokia 6303i Classic is version 10.80 which is available for download in this post. It is very important to know your phone information and details before flashing. Your Phone model and RM can be found on the white label beneath the battery (for dead nokia phones), or by dailing *#0000# on your Nokia 6303i.

You can easily flash this Firmware using any of the special software and programs below:
Nokia Software updater (Internet connection needed)
Nokia phoenix service software
BB5 Easy Service Tool (Recommended)
Important:
Do Not Attempt to Flash old firmware on a Nokia with latest firmware already installed this will brick or damage your phone.
Always ensure you are flashing the correct flash files by dailing
*#0000# or by checking the white label beneath the battery( for dead
nokia phones), for your correct Nokia model and RM.
Always ensure you flash latest firmwares and flash files only.
Flashing a firmware for another model will kill your phone.
Always ensure you use a good data USB Cable.
FIRMWARE DETAILS:
Model: Nokia 6303i classic
Type: RM-638
Firmware Version: 10.80
Language Supported: Russian, Ukrainian, English, German, Bulgarian
File archives Size: 103.53mb
This firmware archives includes: the MCU, PPM (includes all languages)and the CNT flash files.
Firmware Versions History and dates For Nokia 6303i classic
v06.61 (8 February 2010)
v07.10 (25 March 2010)
v09.83 (21 September 2010)
v10.80 (21 January 2011) – Currently the latest Official Nokia software update for this model.
After downloading correct firmware above, you can flash this firmware on
any Nokia 5200 using your original USB data-cable and with the help of
special softwares like Phoenix, JAF and BB5 Easy Service Tool.
We are sorry that this post was not useful for you!
Let us improve this post!
Tell us how we can improve this post?