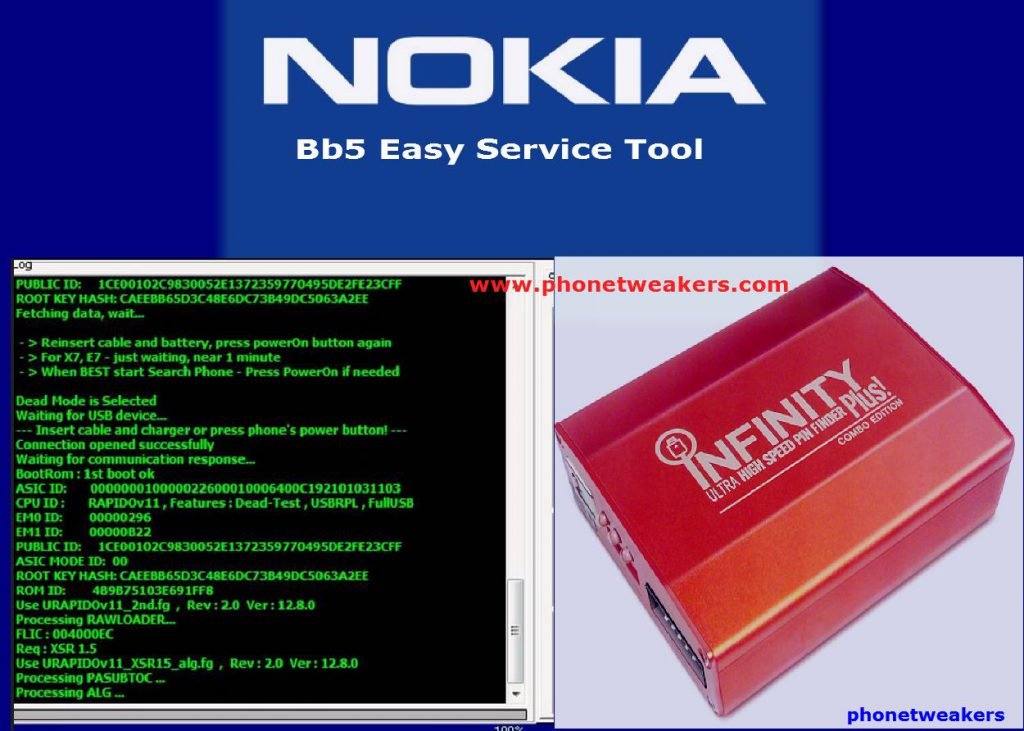 BEST (Bb5 Easy Service Tool) is an easy software for Flashing all Nokia Bb5 phones with latest firmware and it also perform other functions too. I will be showing you an easy Flashing tutorial using bb5 easy service tool which allows you to flash your phone without box,all you need is your Nokia phone and a usb cable.

Bb5 Easy Service Tool is one of the third party flasher which supports USB flashing. USB flashing is very good and usefull because it can flash any phone including the latest released nokia brands,users can IMMEDIATELY FLASH THEIR PHONES with compactible FIRMWARE,no need to wait for new F-Bus cable release and to pay expensive delivery costs. The CA-53 cable is included in nearly EVERY BB5 Nokia package.
This software can perform the following functions:
Flashing, Unlocking and Servicing
– Normal/dead USB flashing
– sp-unlock (operator/network unlock)
– custom flashing via USB
– repair phone
– read information
– sp-unlock/operator lock/network lock/provider lock
– user lock
– lifetime counter operations
– product profile operations
– selftest, format file system
– reset settings
– keyboard test
– user data extraction
– user data repair
For more features check out their official website here
Before You Can Flash Your Phone You Need To Download And Install Below Files:
You should note that the BEST (Bb5 Easy Service Tool) download link provided in this post is only for testing and developemental purpose. If you like the software please consider buying it from their official website Here
Install "Nokia connectivity cable driver" and install also "nokia flashing cable driver".
Connect phone with a computer, and select the "PC SUITE" on your mobile phone.
Open the BEST software, and wait a minute until the phone is connected in the best software, if your phone connects that means the nokia drivers has been installed successfully.
How To Use This Software To Flash/ Upgrade Your Nokia Phones:
Lunch the Nokia Best, BB5 Easy Service Tool on your PC. Remember! You need to have put all the correct Nokia phone's flash files or firmwares in a folder. Move all the Nokia Flash Files in the folder you have created and name the appropriately using their RMs. E.g. Nokia 5130 express music flash files' folder should be named as; RM-490.And the same naming formula goes with other flash files' folder.
Set up the Nokia Best program as seen in the screenshot below, just follow the highlight areas
Select the model number of the Nokia phone you wish to flash from the model list. NOTE: The Nokia phone's RM-Number represents the phone's model in the Nokia Best program. Simply select the correct RM-Number for the phone e.g RM-174 for the Nokia 5200.
Select your MCU, PPM1 and CNT1, boxes, simply click on each of them. And on each click, a window pops up, navigate to the folder where you save all the flash files or the specific flash files for the phone you wish to flash then; open the folder. The exact file for the box you have clicked would be displayed to you, simply double-click to select it.
Remember to check the Use Ini, Manual, DeadMode, boxes and remember to change the flash settings to Full Flashing or Manual as seen on the image above before you begin flashing.
Now, connect the phone you wish to flash to the PC using the compatible USB Cable or FLS device then; click on the Red FLASH icon.
After few seconds, Nokia Best asks you to Connect the phone to the interface, simply remove the phone's battery and re-insert it then, press the phone's power button just once. Nokia best should now see the phone and the flashing process should now start fully.For more information and illustrations on how to use this software check out this youtube video below:
We are sorry that this post was not useful for you!
Let us improve this post!
Tell us how we can improve this post?