This rom work on any Tecno Y6 with custom recovery installed. All needed files for this rom is already available in this post, you just have to download the files and follow the instructions.

All thanks go to Raj Shekhar the Mystic Os rom developer for developing an android 6.0 rom for our beloved phone.
Features:
– Highly graphical
– Battery Conservation
– New UI animations
– New Boot animation Marshmallow
– Performance control and time in state in Mystic Fibres
– Ad Blocker
– Keyboard animation
– Custom progress bar
– Scrolling animation
– 3 network traffics
– Clock & date options
– Dynamic system bars
– Heads up notifications
– Low battery warning options
– Carrier label on statusbar
– Navigation bar options
– Keyboard animations
– Weather settings
– Double tap statusbar to sleep
– Cyanogenmod Lock – CM12.1 app icons
– Nova launcher prime default launcher
– Android M sounds
– Marshmallow platlogo & game
– CM12.1 music player
– Material themed dialer, contacts, mms , & all other system apps
– Floating action buttons in messaging & calender
– Card stack recent panel
– Stock gallery & camera
– Based on wiko rainbow stock rom, so there are very less chances of bugs
– Lollipop lockscreen
– Pre -rooted with super user
– Busybox installed
– ABS Tweak inbuilt
– Better ram management
– Better battery backup
– ROM's size is 260 MB
– Lollipop inspired volume panel
– Screen record in power menu
– 4 ways reboot options in power menu
– Material themed Settings
– Search button in settings' action bar
– Lollipop status bar icons
– Lollipop notification panel with awesome animation
– Flashlight toggle in panel
– Delete button after taking ss
– Themed framework like lollipop
– Battery styles with battery bar option
– Mystic Fibres in settings
– Support developer tab in settings
– Changelogs, rom logo, release date, etc in About Dark Mystic
– Smart gestures & Gesture anywhere options
– Font chooser
– Engineer mod & scheduled power on off
– App ops, autostarts & phone settings
– Option to change lcd density
– Media scanner on boot
– Multi user options
– Build prop modder
How To Install
Note: Your phone must be rooted to enjoy this. Download all files in the link's below and move them to the root of your SD card.
1. Install Rashr.apk flash tool to flash/install Twrp Recovery. Open the app, grant root access and choose the first option (recovery from storage). locate your twrp recovery.img file you downloaded and boot to recovery mode.
2. Click on wipe- Advance wipe
•Tick the first four, ie cache, dalvik cache, system and data. Dont tick sdcard
•Swipe to the right to wipe After wipe is completed
3. Go back and click install. Scroll to where you kept your downloaded Mystic os v7. Swipe right to install
•After installation Is completed
•Click on wipe cache
Swipe right to wipe cache and dalvik cache Reboot Your Phone and your device will be running Android 6.0.1 Marshmallow. Repeat Step 3. With the last two downloaded files ie: play store big fix and key fix files in order to make some improvement/ fixes on the package. ENJOY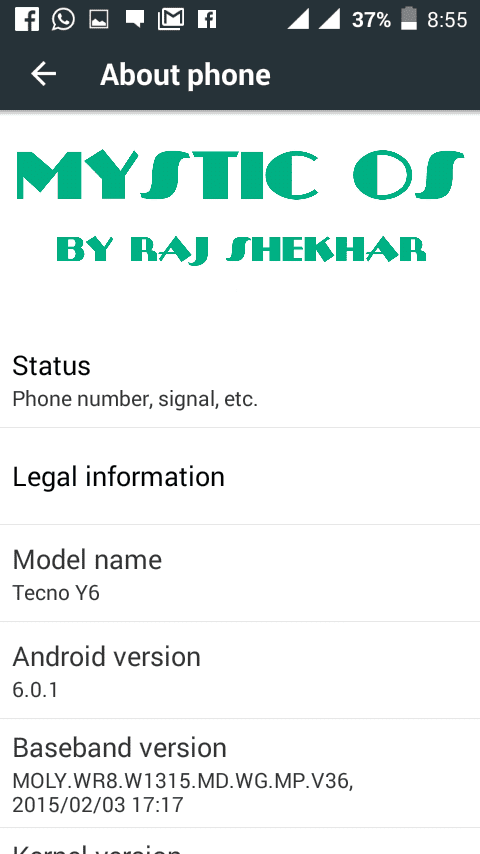 DOWNLOAD LINKS AND OTHER NECESSARY FILES
Mystic Rom
Download
TWRP recovery for y6
Download
Key & Keyboard fix
Download
Playstore Fix
Download
Rashr flash tool
Download
We are sorry that this post was not useful for you!
Let us improve this post!
Tell us how we can improve this post?