For quite some time Google, Samsung, and other software vendors and phone manufacturers do not support Adobe Flash natively in their browsers. This is a guide on how to install flash player on all Android devices including Android 6.0 marshmallow, Lollipop 5.0, 5.0.1, 5.0.2, 5.1 or Kitkat and other lower versions. After that, your device will have full flash support, and you can also browse the internet using the flash technology.

Instructions for installing Flash Player on Android:
Download the Flash Player 11.1 APK Here
Make sure you enable "Unknown sources" in android settings
Install both the Dolphin browser and Flash Player
Go to the Dolphin Browser, "Settings" and set the "Flash Player" to "Always On.".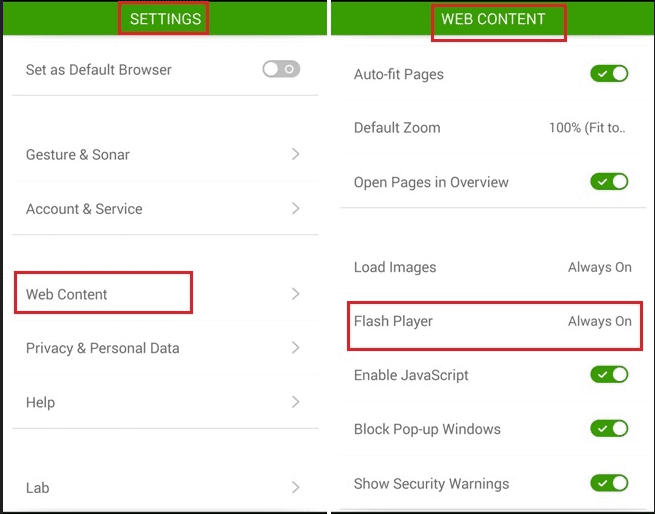 To check if everything is working, you can go to any flash site, for example wechoosethemoon.org . If all is well you will see a beautiful boot animation.
FAQ on installing Flash Player on Android
Can I use a different browser?
– The flash player will not work on android default browsers such as Samsung and Google Chrome browsers. The flashplayer compactible browsers are: Dolphin, UC Browser, Firefox, CM browser.
Do I need to root my phone?
– No, It does not matter whether you root your phone or not.
Why do I need to install Flash on Android?
– If you browse many sites that use Adobe Flash technology. They are small, but they are.
Will this method work on my Device?
– Yes, it work for all android version 6.0, 5, 5.0.1, 5.0.2 and 5.1 including lower versions (KitKat, Jelly Bean) should work.
We are sorry that this post was not useful for you!
Let us improve this post!
Tell us how we can improve this post?