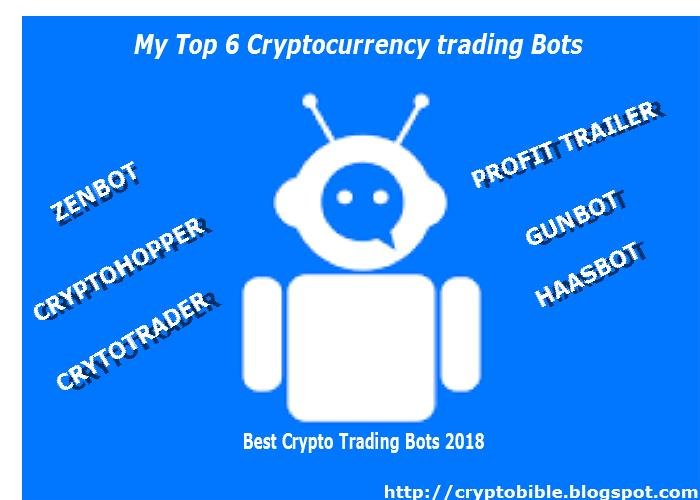 Best Crypto Trading Bots
Today we want to talk about crypto trading, they are becoming very popular and this is a guide for you to get started on your Crypto Investment. Just like the stock market you will soon get involve in using bots that can help you to make 1-2% per day, one percent per day may actually comes back to about 3000 percent per year. This post is about my personal Top 6 Trading Bots available right now in year 2018 and choosing the best one for you.

*Disclaimer* I am not a financial advisor and recommend you do your own research before purchasing/Using any of this Bots. I am not also in any way affiliated or working for them.
There are two different Types/Stages of bots you should know, some are better for beginners while some are recommended for more advanced/Experienced users only.
The beginner Trading Bots: Just has the name implies this are for people who are just starting up with programming (No experience with coding Needed).
Advanced Trading Bots: In other to use this kind of bot you have to understand a little bit of programing (Coding experience).
Using a Bot is a must if you want to make a ton of money trading crypto currency. Below are the Best cryptocurrency trading bots for trading bitcoin, ethereum, litecoin or alt coins.
This are My Top 6 Cryptocurrency trading Bots:
6. ZENBOT
Zenbot is an open-source command-line cryptocurrency trading bot using Node.js and MongoDB.
You can get started using it on Github HERE
Pros:
Open source.
Can Edit Code.
It is free.
Cons:
Not for Beginners.
You must understand Coding or Programing.
Not Updated often.
Features:
Capable of High Frequency Trading.
Support Multiple Assets.
Claim 1.531 ROI in three months.
Fully-automated technical-analysis-based trading approach.
Plugin architecture for implementing exchange support, or writing new strategies.
Flexible sampling period and trade frequency – averages 1-2 trades/day with 1h period, 15-50/day with 5m period.
Configurable sell stops, buy stops, and (trailing) profit stops.
Simulator for Backtesting strategies against historical data.
Supported Exchanges by ZENBOT:
GDAX
Binance
Kraken
Bitfinex
Poloniex
Quadriga
Gemini
Work on further exchange support is ongoing.
Pricing:
FREE
5. CRYPTOHOPPER
For one, they are the only cloud-based cryptocurrency bot on the market, meaning their bot continues trading when the computer is off. Trade cryptocurrencies automatically, 24/7. Even when your computer is off. Trade on technical indicators, or subscribe to a signaler who sends buy signals. Cryptohopper is a powerful companion that trades for you.
Cryptohoppers smooth user interface and extensive resources makes it easy for you to become a master trader even if you're a first-timer. As you gain experience, Cryptohopper grows with you, allowing you to customize and take a driving seat role in determining your hoppers decisions. You can get started using it on the official website HERE
Pros:
plug and play.
Tweak Strategies.
Custom strategies.
Backtesting.
Cons:
Some strategies charge fees.
Features:
Professional External Signals.
Great Design.
Community support.
Backtesting.
Check the stats, trade history and charts of all your currencies.
Read the forum and share your ideas and opinions about the coins you're trading in.
CRYTOHOPER Supported Exchanges:
Bittrex
GDAX
Kraken
Poloniex
Pricing:
$19.99
90 positions
10 Minute refresh
$49.99
200 positions
5 Minute refresh
$99.99
500 positions
2 Minute refresh
arbitrage
4. CRYTOTRADER
Cryptotrader is an algorithmic trading platform for Bitcoin and other cryptocurrencies. Our goal is to provide traders with cloud-based automated trading solutions powered by cutting-edge technology.
You can get started using it on the official website Here
Pros:
All major exchanges.
No software installation.
Strategies Marketplace.
Backtesting.
Cons:
Monthly fees based off on Bitcoin pricing.
Too Many Plans.
Features:
Automated trading bots in the cloud.
Support for all major Bitcoin exchanges.
Strategies Marketplace.
Backtesting trading strategies.
Instant Email alerts & SMS notifications.
Automated trading bots in the cloud.
No software installation required. We rent servers for you.
Support for all major Bitcoin exchanges.
All major crypto-currency exchanges are supported for both backtesting and live trading.
Supported Exchanges:
ALL MAJOR EXCHANGES!
Pricing:
5 Plans
0.0007-0.0135 per month ( $10.50-$525 current price of bitcoin )
Trading account limits.
3. GUNBOT
Gunbot is the ultimate crypto trading bot. Automate your trading and get autopilot passive income. You can get started using it on the official website here
Pros:
Trusted.
One time payment
Strategies marketplace.
Windows/Linus/Mac.
Cons:
Trading strategies can be expensive.
server recommended.
Features:
One time payment / Lifetime license.
Support largest exchanges.
strategies Marketplace.
Multiple buy/sell strategies.
Over 4,000 active traders.
Easy to use.
Gunbot supports Windows, Mac and Linux.
GUNBOT Supported Exchanges:
Bittrex
poloniex
Binance
Kraken
Bitfinex
Cryptopia
Pricing:
3plans
0.05-0.15 (Current $750-$2,250)
Number of exchanges.
Trading view option.
2. HAASBOT
Automated cryptocurrency trading. Fully automate your bitcoin and altcoin trading on the major exchanges while using our highly configurable cryptocurrency trade bots. Automate your trade strategy and get back to living life. Minimize downtime by trading in your sleep, without losing sleep, when you leverage our large selection of cryptocurrency trade bots. You can get started using it on the official website Here
Pros:
Most popular.
All the bells and whistles.
Arbitrage bots.
Backtesting.
Cons:
Expensive and not for the beginner (in my opinion).
Server recommended.
Features:
Backtesting
Autotuning
Arbitrage
Safeties
Great support
Multiple Exchange Support
Custom Dashboards
Granular Control of your Trade Bots
Robust Market View
Native Altcoin Support
Supported Exchanges:
All Major Exchanges
PRICING:
3 Plans-Beginner, Simple and Advance.
0.035-0.084 every 3 months (Current $525-$1,260).
Number of trading bots.
Varied settings.
1. PROFIT TRAILER
PROFIT TRAILER Is our top 6 cryptocurrency bot with so many positive reviews. This bot is completely different, it is a bot for Everyone, that means both the Beginners and advanced users can make use of it. The most powerful crypto trading bot now with more power.We give you a way to trade with multiple buy and sell strategies at the same time.We're fast, simple and automatic 24/7.
The No.1 Bitcoin Trading Bot. It gives you the ability to trade cryptocurrencies automatically on Binance, Bittrex & Poloniex in a fast and simple way. 24 hours a day, 7 days a week! ProfitTrailer is available on Windows, MacOS and Linux. The GUI can be used on all devices connected to internet. You can get started using it on the official website HERE
Pros:
One Time Fee.
Out of the Box Solution.
Can customize settings.
Great community Support.
Installed on VPS.
Add On Changes Settings Based on Market conditions.
Cons:
*Education Optional but suggested (Not necessary).
-Wiki with all the details.
-Discord.
-Telegram.
*Cost.
*VPS Needed ($13 per month).
Features:
Monitoring Dashboard (Configure Settings from your phone!!!).
Possible Buy Log.
Pairs Log (Purchased Coins).
DCA Log (Dollar Cost Average).
Supported Exchanges:
PROFIT TRAILER- PRICING:
0.03 BTC per exchange ( I amd using Binance only)
0.02 Profit Feeder Add-On
0.02 installation
We are sorry that this post was not useful for you!
Let us improve this post!
Tell us how we can improve this post?