Hi guys, this is the Onda oBook 10 SE 2 in 1 Tablet Pc Review. This is not the regular oBook 10 the Onda obook SE variant in this review has a different customize operating system. All thanks to Gearbest.com one of the most trusted online store in the world right now, they sent me this tablet for review.

You can check out the link to the Onda oBook 10 SE tablet sales page in this Link Here. You can get this Tablet for $116 today which is a very good price for a 10.1 inches screen devices.
Specifications Overview
Onda oBook10 SE
Onda oBook10 SE is a 2 in 1 tablet PC device, equipped with a 10.1 inch display that supports for 1280 x 800 pixels. It is powered by Intel Bay Trail Z3735F graphics and seventh-generation Intel HD graphics, coupled with 2 GB of RAM.
Remix OS 2.0 (Based on Android 5.1 Lollipop) Operating System Allows you to remain connected and productive
Intel Bay Trail Z3735F Quad Core 1.33GHz, Up to 1.83GHz
Ultra-low-voltage platform and quad-core processing provide maximum high-efficiency power to go.
Intel Turbo Boost Technology delivers dynamic extra power when you need it
Intel HD Graphic Gen7 GPUOn-processor graphics with shared video memory provide high image quality for Internet use, basic photo editing and casual gaming. Optimized to use less power
10.1 inch IPS Touch Screen with 1280 x 800 Resolution
Natural finger-touch screen makes the most of Remix OS 2.0. The 1280 x 800 resolution boasts impressive color and clarity and IPS technology provides wide viewing angles.
2GB RAM for Advanced Multitasking
Substantial high-bandwidth RAM to smoothly run your games, photos and video-editing applications, as well as multiple programs and browser tabs all at once
32GB ROM Storage Capacity Provides room to store pictures, videos, music and more
TF Card Expansion Accepts compatible cards up to 128GB (not included) for easy expansion
HDMI Output Expands Your Viewing Options Connect the tablet to an HDTV or high-definition monitor to set up two screens side by side or just enlarge pictures
Camera for Photos and Face-to-face Chat 2.0MP front camera lets you capture memorable moments or chat with friends
Bluetooth 4.0 Interface Syncs with Compatible Devices
Wirelessly transfer photos, music and other media between the computer and your Bluetooth-enabled cell phone or MP3 player, or connect Bluetooth wireless accessories
Keyboard in the picture is not included.
Packaging box
Inside the packaging box you will find the tablet, the User manual, Dc power cable, Power adapter and a USB OTG Cable.
Design and display
It has a big sturdy outlook at first impression, the back panel is made of aluminum metal and the top part is made of plastic which is to give the tablet a better grip when connected to a keyboard. At the back you see the ONDA Logo, dc rating e.t.c
At the bottom we have the USB PORT, charging port, Headphone jack, HDMI port and the loudspeaker. The quality of the loudspeaker sound is very loud and clear, and the micro usb port does support USB OTG which was tested personally by me using a flash drive.
On the right you will find the power key and the volume up and down keys. The top is clean nothing to find.
To the left there are four different holes, one is for the external memory card and one is the 5 pin connector used in connecting the tablet to an external keyboard to give you an actual keyboard experience. The other two holes serves the same purpose of making the tablet stand firm and adjustable when connected to an external keyboard, there is also a magnet at the edges to hold the keyboard firmly. I don't have the keyboard with me right now so i don't know how exactly this works. The keyboard will cost you and additional $30 if you want to buy it. check out the link HERE
At the front panel we have the 10.1 inches IPS LCD display which has a resolution of 1280 x 800 pixels. The screen is clear and awesome the color presentation, saturation, contrast and brightness are all the same when i used it indoors. But under direct sunlight the screen brightness is a little bit low and is also a little bit reflective and glaring.
There is also a decent 2MP camera, which can be used as a webcam or taking selfies. The notification led can be seen beside the camera too, which light up in green when you power on the tablet and a red notification light can be seen when charging.
Below the display there is a round home button which is a capacitive touch. it doesn't give you any tactile feedback when you press it, but it respond to touch very well.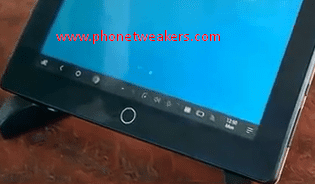 Performance
It is powered by a 1.3GHz CPU by Intel Bay Trail Z3735F, it has the ability to deliver dynamic extra power Up to 1.83GHz (Intel Turbo Boost Technology) when running more performance demanding tasks, games and apps.
For multitasking you have 2 GB RAM and for the GPU you have the 7th Gen Intel HD Graphics. It has a 32 GB on board internal memory storage, with support for up to 128GB SD card storage expansion.
Gaming had been a smooth experience for me without any lags or issues, graphics intensive games like asphalt 8 airborne runs really very good. The tablet is able to adjust it screen to all four rotations e.g right, left. top and bottom.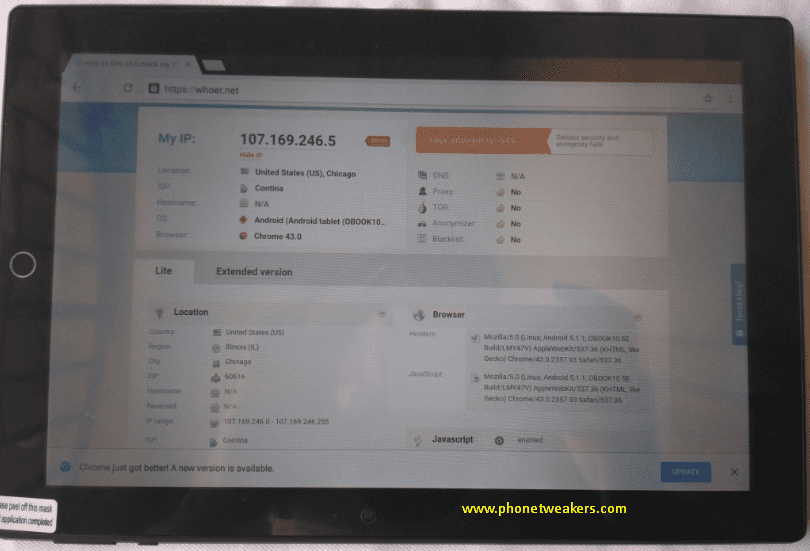 Operating System and Interface
The pre-installed Remix 2.0 is a fully customized Operating System based on Android 5.0 Lolipop. My personal user experience has been very great with this Os. The Remix 2.0 Os is very clean there are no unnecessary Apps or bloatware apps. All installed apps can be deleted by the user without any problems. Also all the Google play store Apps are 100% compatible without issues it almost like a stock android.
Connectivity
Wireless connectivity features include Bluetooth 4.0 and WiFi and this device does not support sim card. That means you will have to rely only on WiFi for internet connectivity, which is a major disadvantage for me. That means there is no IMEI, Earpiece and Dailer.
Battery
The battery life is pretty good, it is powered by a 5400mAh
battery which is enough for your daily activities
Conclusion
If you like browsing the web, watching videos and playing games this is a great tablet for you. Considering the price to other 10.1 inches alternative in the market it is worth buying if you are low on budget.
Follow the link below to buy the Onda oBook 10 SE 2 in 1 Tablet PC at a discount price at gearbest.com.
If you need any help, please do send me a message or comment on this review.
Pricing And Availability:
The Onda oBook 10 SE is available for worldwide use, you can buy at a Discount price of $116 at GEARBEST.com Online store HERE.
They are one of the best and trusted online store and they can ship
/send your purchase items to anywhere in the world, shipping is also
free Via Flat Rate Shipping.
Images
We are sorry that this post was not useful for you!
Let us improve this post!
Tell us how we can improve this post?