Before the Nintendo's Wii console, video gaming didn't usually imply quality time with a gamer's significant other. Well, times are changing. Couples aren't even waiting for a special occasion to go halves on Wii consoles. They're finding that a new game every once in a while can turn an ordinary night on the couch into a date jam-packed with entertainment. Here are a few titles sure to get couples laughing, strategizing, and enjoying every minute together.
Active Life Outdoor Challenge for Wii
This first Wii game in the Active Life series is a fun way for couples to enjoy an active date even on a rainy winter day. Mii characters are put through the ringer with outdoor events including kayaking, hurdles, trampoline acrobatics, jump roping, skateboarding, mole stomping, and log leaping.
Couples expecting a workout on par with an evening playing Wii Sports or even Wii Fit are in for a surprise. The running, jumping, and fancy footwork required by Active Life Outdoor Challenge are sure to get heart rates up. Best of all, the game does all this through sheer fun. After all, there's no faster way to kill a date than a video game going on about weight loss.
Couples compete for the best time in single-player mode as they do in a couple of popular casino online games, or go head to head in multiplayer. There are even some fun cooperative challenges that get players working together to scale a waterfall or steer a rickety mine cart. Couples will probably find the mat a bit tight for two adults. As a date though, the cozy quarters work just fine.
Wii Play Bundle With Wii Remote
When planning a Wii date, one splurge might be an extra Wii remote to accompany the one which came with the Wii console. One way to find these remotes is bundled with the game Wii Play for just ten bucks more.
While Wii Play isn't likely to become a couple's favorite game, it can certainly make for an affordable evening's entertainment. Mii characters are prominently featured, and the game does have a fun version of air hockey and pool.
Guitar Hero 5 and Guitar Hero World Tour With Mii Integration
Guitar Hero 5 and Guitar Hero World Tour are the first in this popular rhythm series to let Mii characters in on the game. It's hard to say which is more fun, watching a date rock out with a plastic guitar or seeing the Mii characters tear it up on screen. While the added equipment such as guitars, drumsticks, and microphones, makes these games a hefty investment as a date night, chances are couples will be using the gear on plenty of occasions down the road.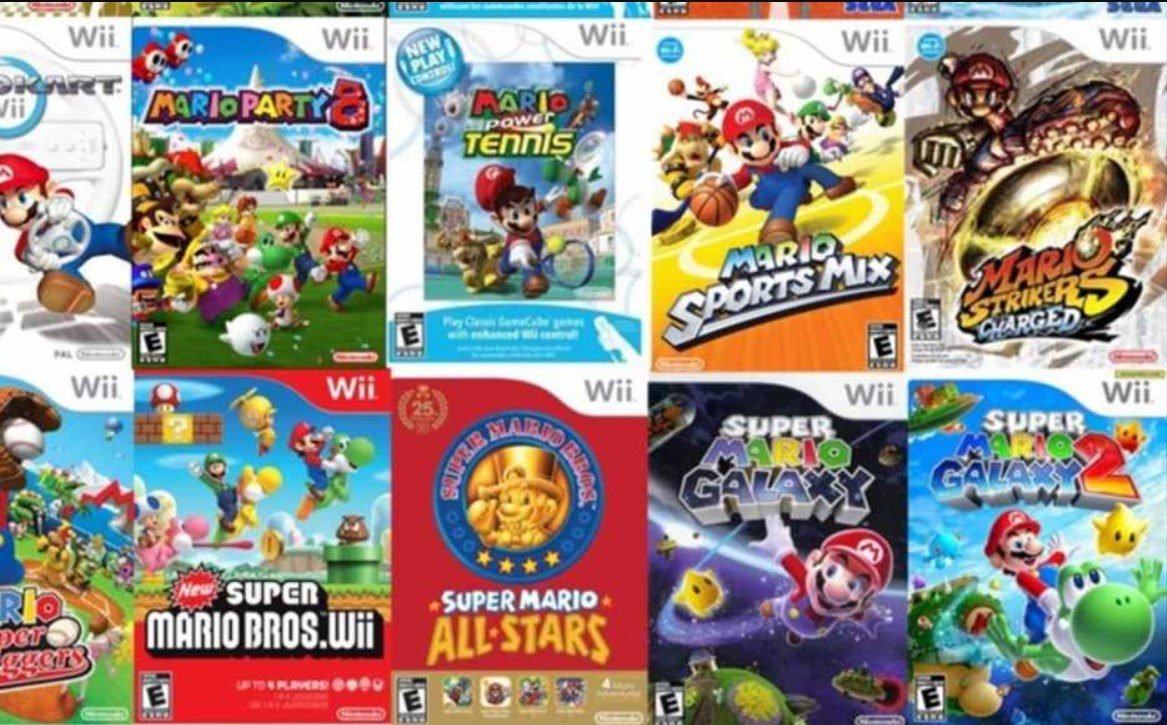 Nintendo's Wii Sports for the Wii Console
Though Wii Sports has been bundled with the Wii console for a while, the popularity of the Wii Fit Plus bundle might lead to couples missing out on some fun nights of competition. In Wii Sports, Couples' Mii Characters challenge each other in tennis, baseball, golf, bowling, and even boxing. Other favorite Mii characters couples create make surprise appearances during matches. Players are sure to have fun no matter their athletic prowess.
List of the Best Wiiware Games for Couples
The Wii Console's Shopping Channel is full of great games that make for incredibly affordable date ideas. Here are some entertaining Wiiware titles to help couples plan a relaxing night in.
World of Goo for the Wii Console
For 1,500 Wii points ($15.00), World of Goo is one of the most expensive Wiiware titles on Wii's Shopping Channel, but worth every point or penny. In this game, couples will spend their evening helping adorable globs of goo find their way across obstacles and vast chasms to a welcoming pipeline.
At its core, Worlds of Goo is a game of physics. Couples start each of the 48 challenges with a collection of goo globs. They use these globs to construct towers and bridges to help the remaining globs to safety. The challenge is threefold: First, use the least amount of goo to allow enough to escape, second build a structure that won't topple or sag, and third, avoid the perilous obstacles such as grinding gears scattered throughout the levels. When a tower collapses due to some fatal error, players have the option of popping one or two of the time bugs fluttering around the screen to take them back a few moves.
A multi-player mode allows up to four players to cooperate on constructing the wobbly towers and bridges. If couples don't strategize well enough to let the right amount of goo escape, they'll be repeating a level until they get it right. They should consider themselves warned on the addictive powers of this cartoonish puzzle game.
Bomberman Blast for the Wii Console
When planning an evening for a date who's been a fan of gaming for a while, it's likely Bomberman Blast will be a huge hit. This Wiiware title is equipped with a classic look and fresh controls.
After couples complete the game's 11 levels, they are able to use their Mii characters during play. Couples who don't shy away from a little competitive play will be coming back to this 1,000 Wii point ($10.00) purchase for date after date.
Bit Trip Beat for the Wii Console
The classic video game of Pong is reborn in this inexpensive Wiiware title. For just 600 Wii points ($6.00), couples can play cooperatively or take turns keeping the paddles moving. Fun music and a little nostalgia make for a great date.
Dr. Mario Online Rx for the Wii Console
For 1,000 Wii points ($10.00), couples can give their Mii characters a workout in Dr. Mario Online RX. Whether they prefer to compete or play cooperatively, this game can oblige.
Dr. Mario even offers some moments of couple's therapy as during the co-op mode, players usually wind up botching each other's attempts at first. Only after putting heads together and devising a plan will couples share in scoring success.
Cue Sports Pool Revolution for the Wii Console
For 500 Wii points ($5.00), couples can enjoy a cheap night of pool. The game's graphics are simple but good.
We are sorry that this post was not useful for you!
Let us improve this post!
Tell us how we can improve this post?