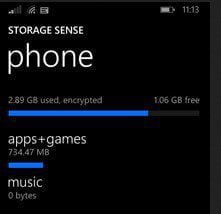 If the free space of your phone is getting lower and lower and you Wants to try a new game but you keep getting a "Low Space" message errors, there is a simple solution to this. You can use the best 3 apps on window store, to help you clean or free up storage space available on your window phone. When there is no free space available, windows Phone will show the standard "low storage" dialog.
At this point, the operating system will try to free some space by removing some internal files, which are available under the "other" section (settings -> phone storage -> phone). All apps in this post are free to download from the Microsoft window store for mobile, and should work on all Windows 10 Mobile, Windows Phone 8.1, Windows Phone 8 devices.
Best free windows phone cleaner app 2017
1. Storage Cleaner
Storage Cleaner is an application that can easily help, tries to free storage space occupied by "others" section by filling a free device storage space until there is available space. all you need is to just open the app to delete unnecessary created temporary files. Check it out and download from the window store HERE
2. Master Cleaner
Master Cleaner is the best app for Scanning & Cleaning junk files on your window phone device.Scanning will work only with SD Cards. It also listing all big files so you can select & remove unnecessary files to free up storage. You can also easily select unnecessary large files to delete them manual too. Other features include:
Scan junk files such as: .tmp, .bak, cache files
Quick clean all junk files.
Listing large files: Image, Video, Document
And many more.
Download and check out the latest Master cleaner version on window store HERE
3.Device Cleaner (English)
The device cleaner app work by Filling up your phone storage quickly and then free cache space. After creating and filling up your device with the temporary file, your smartphone system will be used to delete the temporary files and cached files, the result may not be shown immediately. You may have to keep the device's screen on and stew it for several minutes or click on the 'Refresh' button continuously. If it doesn't work, please try to reboot your device.
IMPORTANT: THIS APPLICATION CLEANING FUNCTION DEPENDS ON THE INTERNAL SYSTEM FUNCTION OF YOUR WINDOWS PHONE. SOMETIMES THE OS MAY FAILED TO DELETE SOME USELESS FILES, NOTHING CAN BE DONE ABOUT IT. THIS IS NOT A BUG.
Download and check out the latest Device Cleaner version on window store HERE