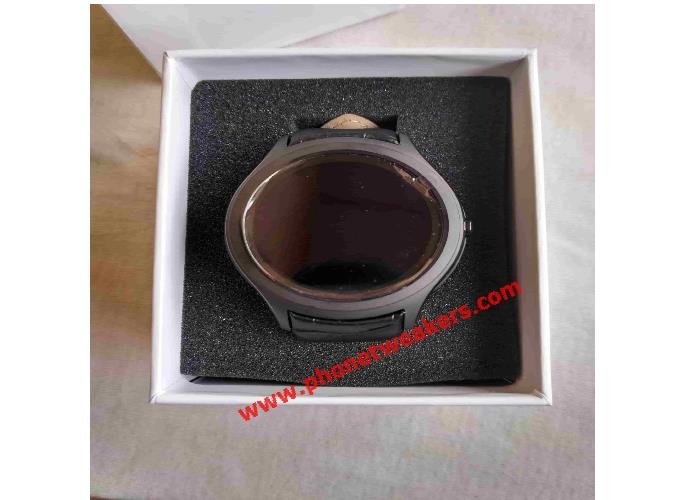 No.1 D5+ Smartwatch in box
Thank you Gearbest for giving me a chance to review the No.1 D5+ smartwatch, my experience with the watch has been very great. This post will be a summary of my own personal experience after using the D5+ for 3 weeks now. It will include both the pros and cons of the watch too. The No.1 D5+ smart watch is popular because it very cheap, it is also a full android smartwatch which means, you can download New apps from the Google play store without any restrictions.

[Official Sales page ##shopping-cart##]
[message]

Note:

This review is only based on my personal experience only, other users experience may be different.
General Information And Features About This Watch: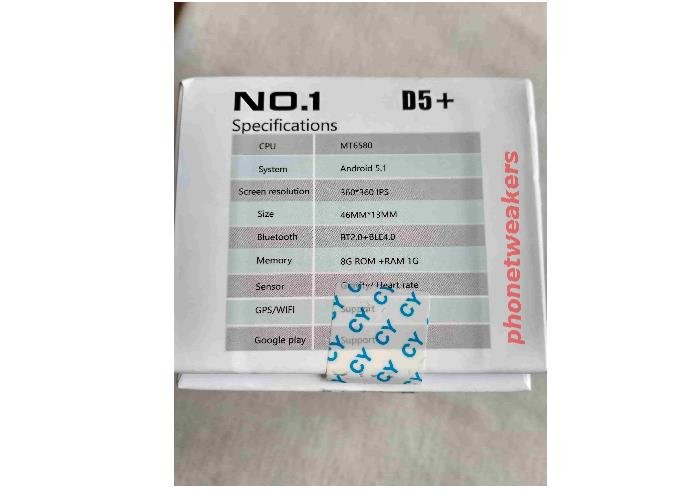 No.1 D5+ Smartwatch_box
It is the upgraded version of the previously released No. 1 D5 with Only internal changes and same design.
Round face along with narrow bezels
316L Stainless Steel design with Italian sheepskin durable strap same design with d first version
Upgraded MediaTeK's latest quad core MTK6580 processor (4 x 1.3GHz)
1GB RAM and 8GB internal memory
A full Android 5.1 (Lollipop) with Google play store support
Smartphone synchronization
This is what you will find inside the boxing and package:
No.1 D5+ Smartwatch package
Below are my Honest Review and personal experience with the smartwatch:
The Charging problem issues and the Four Golden pins:
Starting from the day the package was delivered to me, i have been having some issues with the D5+ magnetic charging dock, which is made out of plastic and rubber, it feels comfortable on a flat surface, but the issues with the charging dock is that if i don't open up the watch strap i will have to put the watch face down on a flat surface which can led to scratches quickly, especially the bezel near the display.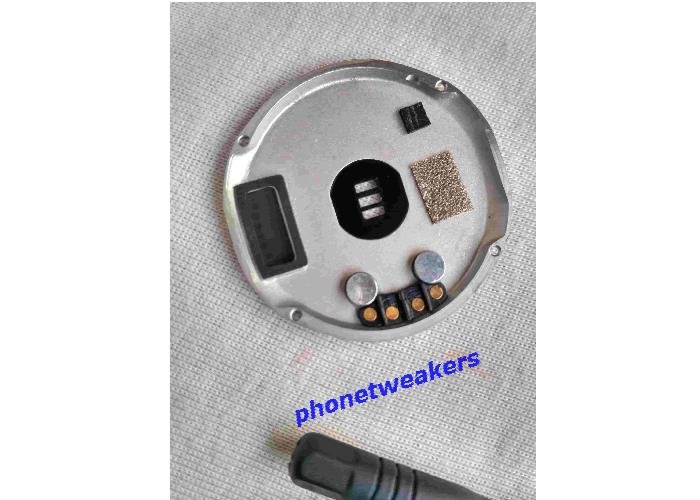 Most of the time, the micro USB cable will always disconnect from the charging dock, i will have to press the cable tightly using my fingers in other to start charging again. The charging time is also up to 3hrs depending on the usage, most times i will have to power off the smartwatch in other to charge faster.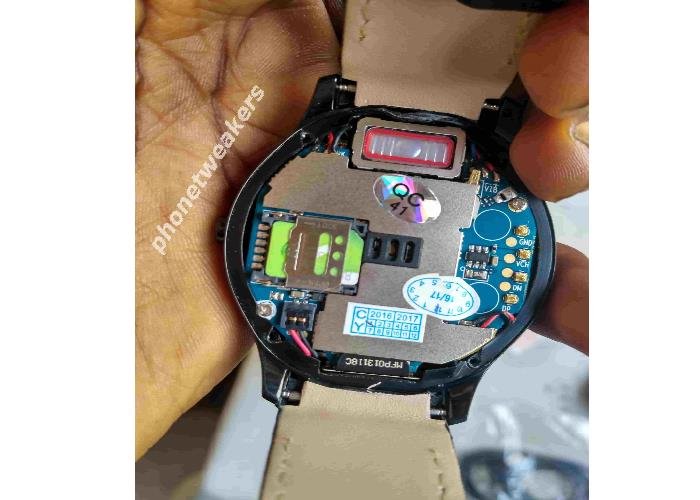 No.1 D5+ Smartwatch sim slot
For you to insert your sim card, you will have to unscrew the smartwatch and this is where you need to be very careful. After you unscrew the watch you can't see the battery, it is hidden under the motherboard. But you will notice Four golden pins at the right side as seen in the image above. Be very careful because the Golden pins are very fragile and can break easily, if that happens your D5+ may stop charging entirely or face charger disconnection problems.
No Upgrade and little customization Available: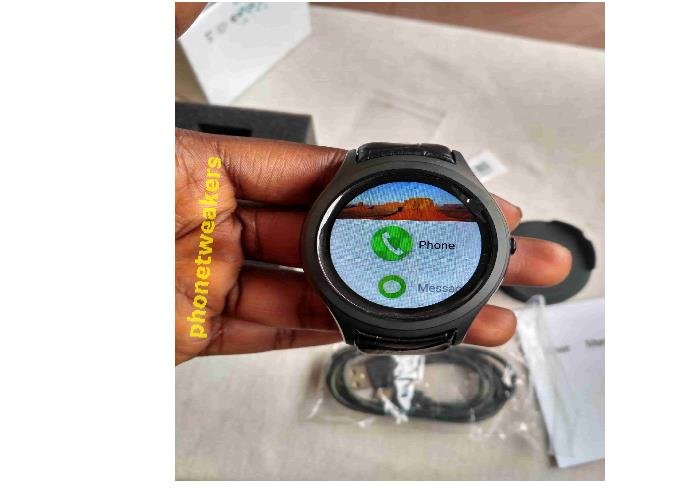 No.1 D5+ Smartwatch interface
Even though this smartwatch runs on a fully featured android OS, it is not easy to upgrade and customize.For example i can't change the background wallpaper or use a third party lunchers, unlike real smartphones which have unlimited tweaks. This smartwatch is also not compatible with most of the android apps in the store due to it small screen size. The fact that their is high probability that the d5+ will be stuck on Android 5.0 lollipop forever is not a good one.
Water proof but Do not go swimming with it:
Inside the D5 plus there is no real seal or protection, as you have seen in the image above. It only has an IP65 RATED waterproof protection, that means you can't take this watch on a shower or swim with it, otherwise water will get into it and you will end up with a dead smartwatch.
Application and connection:
In other to connect the watch to your smartphone you will need to download the watch helper application. it is both available for iOS and Android and you can easily install it by scanning the bar-code on the smartwatch. It need to connect using your Bluetooth and it works perfectly fine, no connections issues. After a successful connection you can: Read incoming SMS, missed calls, incoming calls and notification from app message.
Speakers Location:
No.1 D5+ Smartwatch back view
The loud speaker is very loud, but it is located at the back of the smartwatch which is a very bad thing. If you are wearing the watch on your wrist it will cover up the speaker, the result is low and distorted sounds. Apart from this the call quality is very good and the speaker is loud enough.
Typing and Chatting is not easy:
No.1 D5+ Smartwatch_Typing
If you are someone with a fat or big fingers, you will have some typing issues with this smartwatch. The keyboard is too tiny and the spaces in the keyboard are not really optimize for the watch round face, you might have a really bad time typing and making a lot of mistakes. You can also download a new keyboard from the Google play-store if you don't like the pre-installed one, but i doubt if this will help at all.
Display: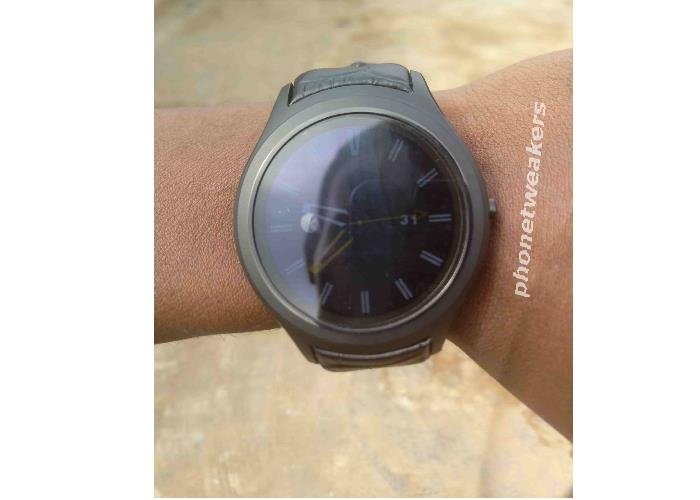 The display is really bright for indoor use, but i find the outdoor display not really bright enough most especially when you are in direct sunlight. The watch face style you use can also determine the visibility and readability outdoors. Using a dark watch face design can make things really difficult to see in direct sunlight, so i prefer using white watch face style design as you can see in the image below. The overall display experience for me is pretty good, but i will advice you to always turn down the brightness in other to safe your battery.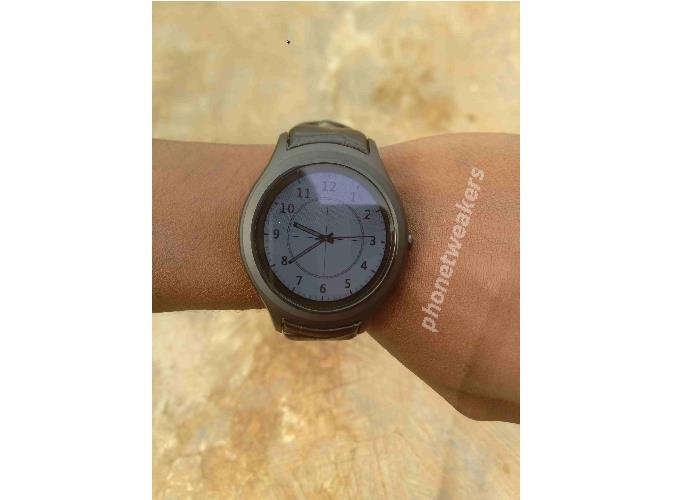 Mobile connection:
The mobile and WiFi connection for me is always dropping a lot, most especially when am downloading files. I hope the No.1 will help fix this connection issues with a software update soon, it is really very annoying.
The battery life is poor:
No.1 D5+ Smartwatch battery usage
The battery life is isn't very good i must confess, but consider the fact you are having a little round smartphone on your wrist is worth the sacrifice. With heavy usage i get like 3 hours of onscreen time, and that is with WiFi connection and web browsing. The standby time is about 2 days when the mobile network is offline and you will get a 1 day standby time with mobile 3G network turned on.
That means you will always have to charge your D5+ smartwatch every day, this is one of the reasons i love my Xiaomi MI Band 2 smart wristband i can go about 3 weeks without charging it. I will advice you to always turn on the power saving mode when not in use, it will help to solve the battery drain.
Pros and Cons Of the No.1 D5+ Smartwatch
[tab]

Pros

What i really like about this smartwatch:

1GB RAM and 8GB internal memory

Independent 3G and wifi Network

Nice design with stainless steel

Fast and stable performance
Full android 5.1 Operating System

Cons

What i dislike about this watch:

No upgrade and customization available

Difficult when Typing or using the keyboard

Poor mobile Network and WiFi connection

Difficult to insert sim card

No camera
Speaker location not Good

Price and Availability

The is No.1 D5+ smart watch is available on gearbest.com at a retail flash price of only $99. Check out the official sales page: [Sales Page ##shopping-cart##]
Conclusion:
The No.1 D5+ is one of the cheapest smartwatch today with great specifications and features. You can buy this smartwatch on Gearbest.com for a price of $99 as at the time of this Review. The fact that is has a fully featured android 5.0 lolipop is amazing, it is just like having a smartphone on your wrist. The D5plus is also not perfect either, apart from the cons above and the short battery life which is my own personal experience using this Smartwatch. It is an amazing watch which i will always recommend for everyday.
[Sales Page ##shopping-cart##]
You can check out more information about this smartwatch in the sales page here on Gearbest.com. i will be adding more update on this watch very soon and you can ask your questions in the comment section below and i will reply you.
Bye guys. it time for me to make a call with my smartwatch!